There is no one-type-fits-all when you're choosing deck material.
At Johnson Lumber Company, we carry many types of wood and partner with suppliers to get you the materials you want and need. But with so many options, how do you choose the deck material that's right for you?
It depends a lot on your personal aesthetic, your plans for your deck, and your budget. We're here to help you navigate the options and help you build the right deck with the right material.
Pressure Treated Wood
Pressure treated wood is any lumber that manufacturers infuse with preservatives. This is usually done to prevent rot due to moisture or insect infestation. Many types of wood can be pressure treated and depending on where you are, the specific species of wood will differ. A commonly used lumber for this is yellow pine. Douglas fir is also a popular choice when it comes to deck framing. Depending on the size of your job, we choose the appropriate species of wood based on its strength and durability.
Pros
Pressure treated wood is the more cost-effective options when it comes to choosing a deck material.
If you get your lumber from a local supplier, you're likely to get locally sourced materials.
The chemicals used to impregnate the wood serve as preservatives, meaning you don't have to worry about moisture or bugs.
Cons
Pressure treated wood is high maintenance. Left un-finished, it will eventually fade or discolor, splinter, split of grow mildew and scum.
Only specific hardware should be used. Because of the specific copper compound used to preserve pressure treated wood, hardware and fasteners are more susceptible to corrosion. Knowing what materials can be used with pressure treated wood can be tricky. Stainless steel or hot-dipped-galvanized steel are usually a safe bet.
With so many variables and potentially damaging situations, is best to consult manufacturer or supplier when it comes to using pressure treated wood.
Our friends at Culpeper Wood Preservers offer up a great selection of locally processed pressure treated wood. Together, we'll get you squared away if you decide to go with pressure treated wood.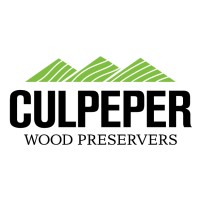 Cedar
Because of its natural ability to resist moisture, Cedar is a popular choice asa deck material.
 Pros
Cedar can act as a sound barrier. The wood is naturally porous, meaning it is efficient at trapping sounds.
It is porous, but not Cedar is very resistant to cracking and warping. This is because the wood's moisture content adapts to compensate with the moisture content of the air. This is especially beneficial in the winter, as it will not absorb water and then freeze when the temperature drops. Woods that are ultra-absorbent are more prone to cracking because as the water freezes, the molecules expand, creating small fissures in the wood. Overtime this can destroy your deck. But you don't have to worry about that when choosing Cedar.
Cedar is naturally insect repellent.
It is easy to stain or looks good with clear coat. A decent cedar deck can last you a few decades if you take care of it.
Cons
If cedarwood goes unstained, overtime its brilliance will fade to a gray. Although it may look worn down, the fading does not affect the wood's strength or durability. Some people appreciate this more weathered look. If you are not one of those people and you choose to work with cedar, make sure you stain or seal your lumber.
Cedar is one of the more expensive options when it comes to wood. It is long-lasting, which is great, but it will out-live standard galvanized fasteners. Using stainless steel fasteners is a must. But in return for your investment, this combo will last you decades.
Ipe
Ipe is one of our favorite woods to work with. It is durable, beautiful, and reliable.
Pros
Ipe is extremely tight grained, meaning it is strong and bend-resistant. In fact, it is 7x harder than cedar and 3x stronger. It resists bending at up to 22,560 pound per square inch.
Ipe is naturally bug, insect, and termite resistant.
It is naturally water resistant.
Ipe is naturally slip resistant.
It looks great finished or left unfinished once installed.
Cons
Its strength and durability make it difficult to work with. Special carbide saw blades are necessary for cutting and all fastening needs to be predrilled.
Ipe is going to cost you, but can last you a literal lifetime – up to 75 years.
Composite
Composite may look like natural wood, but it has some major differences.
Most notably, composite is not "wood"; it is a mix of soft and hard woods and plastics, usually polyethylene based. Both newly produced and recycled plastics can be and are used in the production.
Pros
It is low-maintenance and doesn't have to be painted or stained.
Often made with UV stabilizers, it will not fade due to the elements.
Composite is environmentally stable since it can be made from scrap wood, smaller trees, and recycled plastics.
Cons
Some manufactures use toxic adhesives in the production of composite wood. This could produce noxious fumes in the case of a fire.
Low-maintenance does not mean no-maintenance. Keeping composite deck free from unnecessary heat and moisture will increase its lifespan.
Composite is only available in 3 lengths: 12', 16', and 20'.
At Johnson Lumber, we only use trusted manufactures, so don't worry about getting the cheap stuff from us. We supply composite from:

PVC
Polyvinyl chloride, or PVC, is synthetic thermoplastic used in countless applications all of the world. We use PVC for decking projects because of its light weight, durability, and affordability.
Pros
PVC is mold, moisture, rot, and mildew resistant.
It does not have to finished, stained, sealed, or painted.
PVC is low-maintenance and wipes easily to clean.
It is pliable, meaning installers can heat it bend it to fit customs deck creations
Some brands like Azek offer 50-year warranties.
Cons
Compared to composite, PVC is the most expensive non-organic decking option.
While PVC resists scratches and gouges, these will eventually happen over the life of the deck and won't be able to be buffed or sanded away.
Call on the Experts
Planning and installing a deck is a huge undertaking. Choosing a deck material is just scratching the surface of choices to be made for this big of a project.
The J.F. Johnson Lumber Company has the knowledge, experience, and ability to not only guide you through the process, but to be the one to complete it for you. Come see how we can help you with your deck.